A Fixed Deposit Account offers a greater rate of return for clients' commitment in keeping the savings on deposit with LOLC Cambodia for a specific period of time. Clients have the option to withdraw interest at the end of each month or at the end of the term. 

Benefits:

Get high interest income
Your money will be kept safely and securely
Multiple currency choices: KHR, USD and THB
Open an account at any LOLC office without service charge
Product Features:
No
Features
Descriptions

1

Currency

KHR, USD, and THB

2

Initial Deposit

KHR 200,000, USD 50, THB 2,000

3

Term

 1 month, 3 months, 6 months, 9 months, 12 months, 24 months, 36 months for KHR and USD




 12 months for THB

4

Interest Payment

Pay every month end, at the end of maturity.

 

5

Deposit Condition

 Can be made only one time when opening FD account
 For new deposit amount, customer can open new FD accounts




6

Account Type

 Individual Account
 Joint Account
 Corporate Account



7

Rollover Condition

 Non-Renewal
 Principal Rollover
 Principal and Interest Rollover



8

Withholding Tax

 Resident 6%
 Non-Resident 14%
 Bank/Microfinance/Government 0%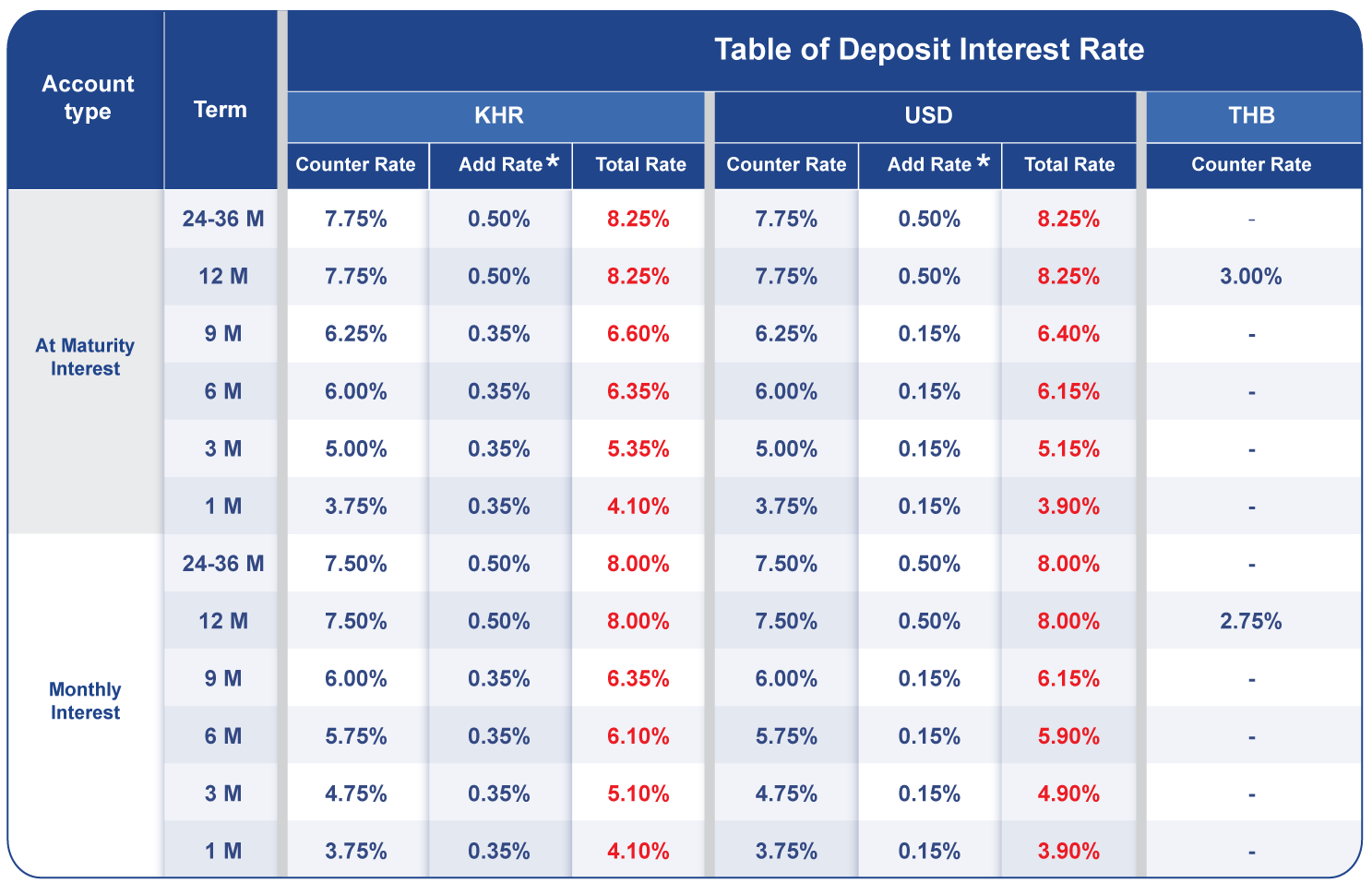 Note: (*) Add Interest Rate is effective until 30 June 2023 . The add interest rate is applied for individual customer (existing and new customer).
Fee Charge:

Description
Fee charge
KHR
USD
THB

Request for Fixed Deposit Certificate replacement (lost or damaged)

20,000

5.00

200

Close fixed deposit before one month after opening date

40,000

10.00

400

Request for Account Balance Confirmation

20,000

 

5.00

 

200


Account Opening Requirement:
For Individuals: National ID card or, passport, 

or equivalent document

For corporations: Legal ID of authorizer in corporate account, Memorandum and Articles of Association, Business Registration Certificate, Patent, Letter of Authorization or Board Resolution as well as other documents (if available) 

For Corporation: 
- Valid National ID/Passport of signatory(-ies) *
- Memorandum and Articles of Association*
- Business Registration Certificate (Digital Form) *
- Certificate of Tax Registration (VAT)/Patent Tax*
- Letter of Authorization or Board Resolution*
- Other documents (if available).
How to apply:
Visit any LOLC office to apply for the service or
Through iPay Cambodia, if you have saving account

Through e-Banking/Internet Banking