Mrs. Hang Neat, Starting a business with Group Loan
‌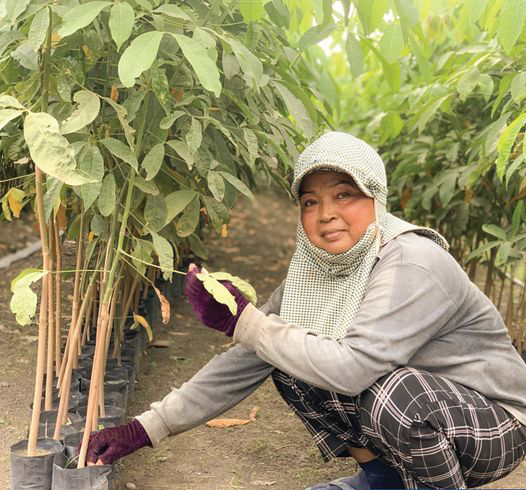 Mrs. Hang Neat, 60, lives with her husband, Khun Seanghun, and a son in Chrous Chrov Pouthisal village, Kranhuong Senchey Commune, Snuol District, Kratie Province. Neat began planting and caring for rubber trees for sale with the first, second, and third Group Loans in the amounts of US$ 1,250, US$ 1,500, and US$ 2,000, instead of working as rubber latex harvesters for neighbors. She currently has her own rubber farm, many rubber plants for sale, and can earn approximately US$ 625 per month. "LOLC Cambodia was the best problem solver for my business. There is not only suitable price, but the loans gave me enough funds to run and expand my business, which improved the daily lives and needs of my family," Mrs. Hang Neat said.
Mr. SOK RITHY'S SUCCESS STORY
‌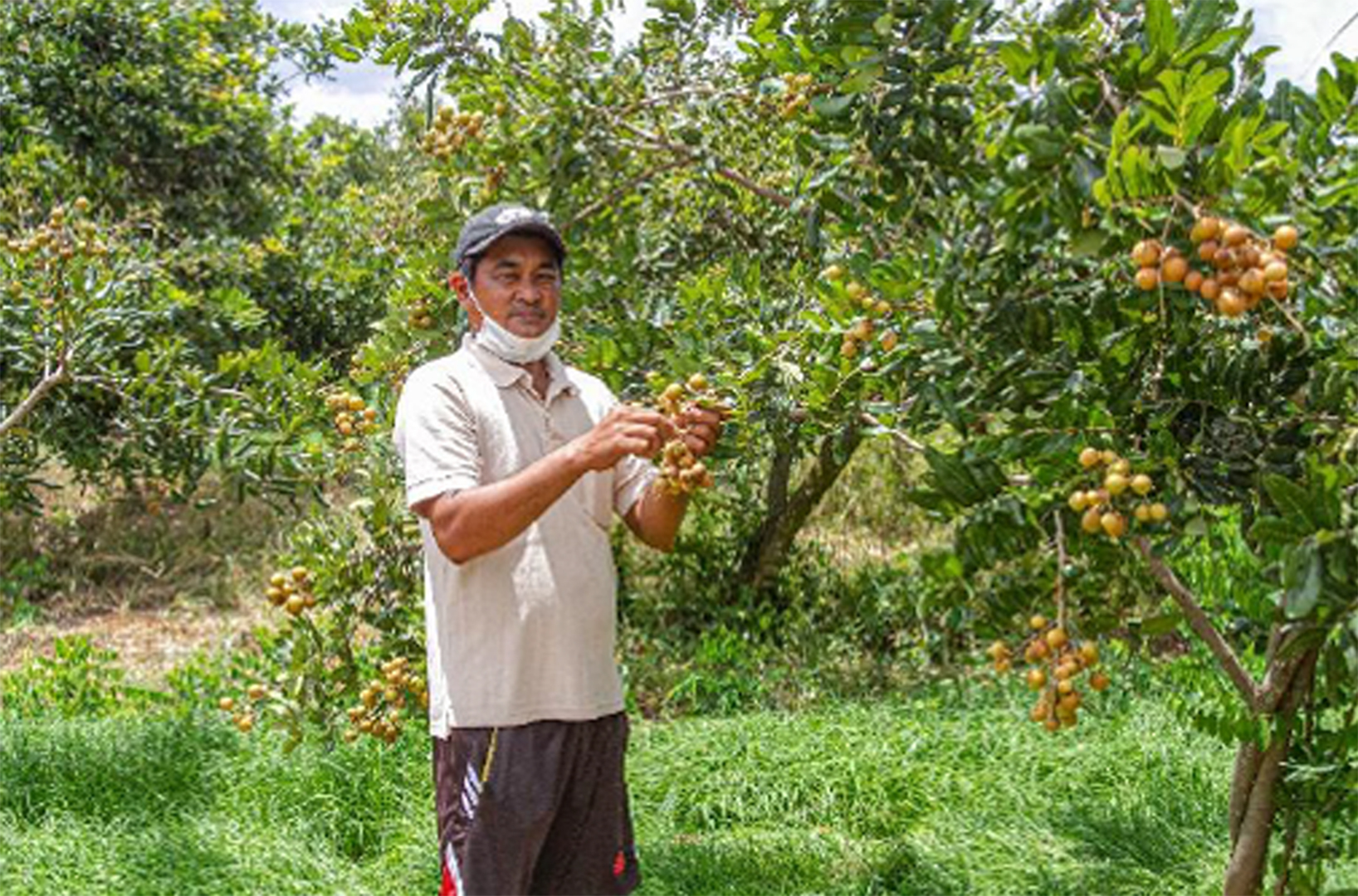 He had been using LOLC Cambodia loans for 5 cycles already to improve his agriculture business. He told LOLC Cambodia that "I started using the loan from LOLC since 2016 and I really appreciate their cooperation". In addition, "Loans from LOLC not only help to increase my agricultural productivity and family living standard but also build prestige to my family". He added "my neighbors said that now I am a successful business owner and I myself also share that sort of feeling."
Mrs. Yoeurn Nhoeb, Group Loan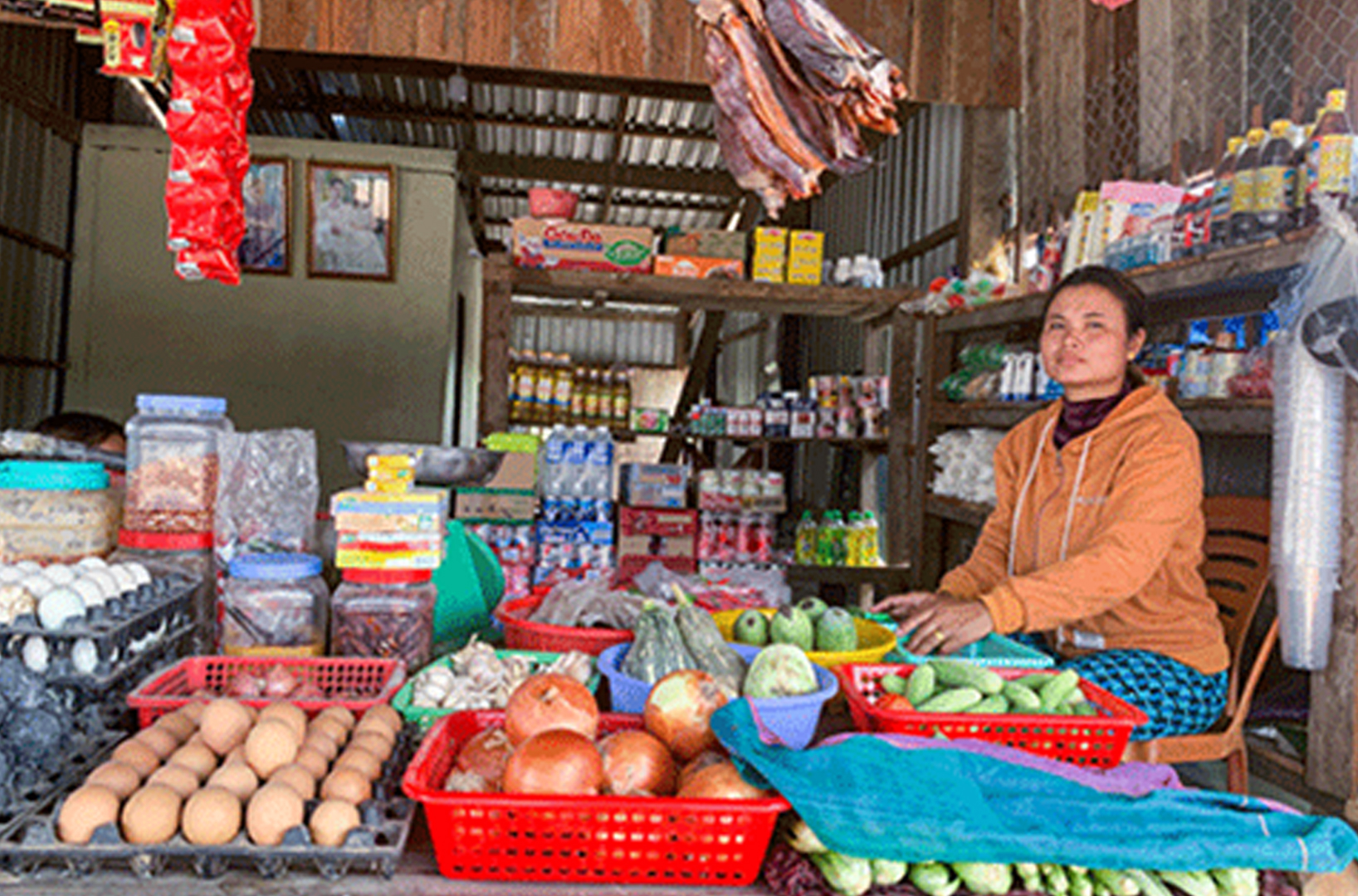 Mrs. Yoeurn Nhoeb is a grocery seller in Sre Roneam village, Khsem commune, Snoul district, Kratie province. She is living with her children (a boy and a girl) and husband who is the staff of a construction company. Before getting the loan from LOLC, she just did the cashew farm to support the family daily income but that was just a small farm which can't make a big income. In June 2019, she was introduced about loan products of LOLC by her neighbor and after discussing with her husband, she decided
to request a group loan of USD 750 to bough some grocery items to start her small grocery store in her small zinc roof house. "I was so happy because I have my own business even if it's just a small one, but I still can earn around USD 30/day which can help to support some of my family daily expenses" she said. She has a good habit of saving that she always saves around USD 5 every day. She always gradually adds up her grocery stock in order to fill up her customer needs, but her space is too tiny. So, at the end of 2020, she requested a new group loan of USD 1,000 to build yard in front of her home, so this yard is not only improving her house, but it also be a wide grocery store. "Now, I have enough space to expend the grocery stock, but I couldn't do it since my capital is still limited" She added. So, with support from her husband, she could early pay off the second loan and asked for another bigger loan size of USD 1,500 to increase more grocery stock. Now her store is a medium-sized one in the village, she can earn the profit around USD 10 per day. "I can easily support my kids' study and I also gradually save more in order to hit my goal to renovate my house" She finished.
Mrs. Vorn Phall, Orange Farmer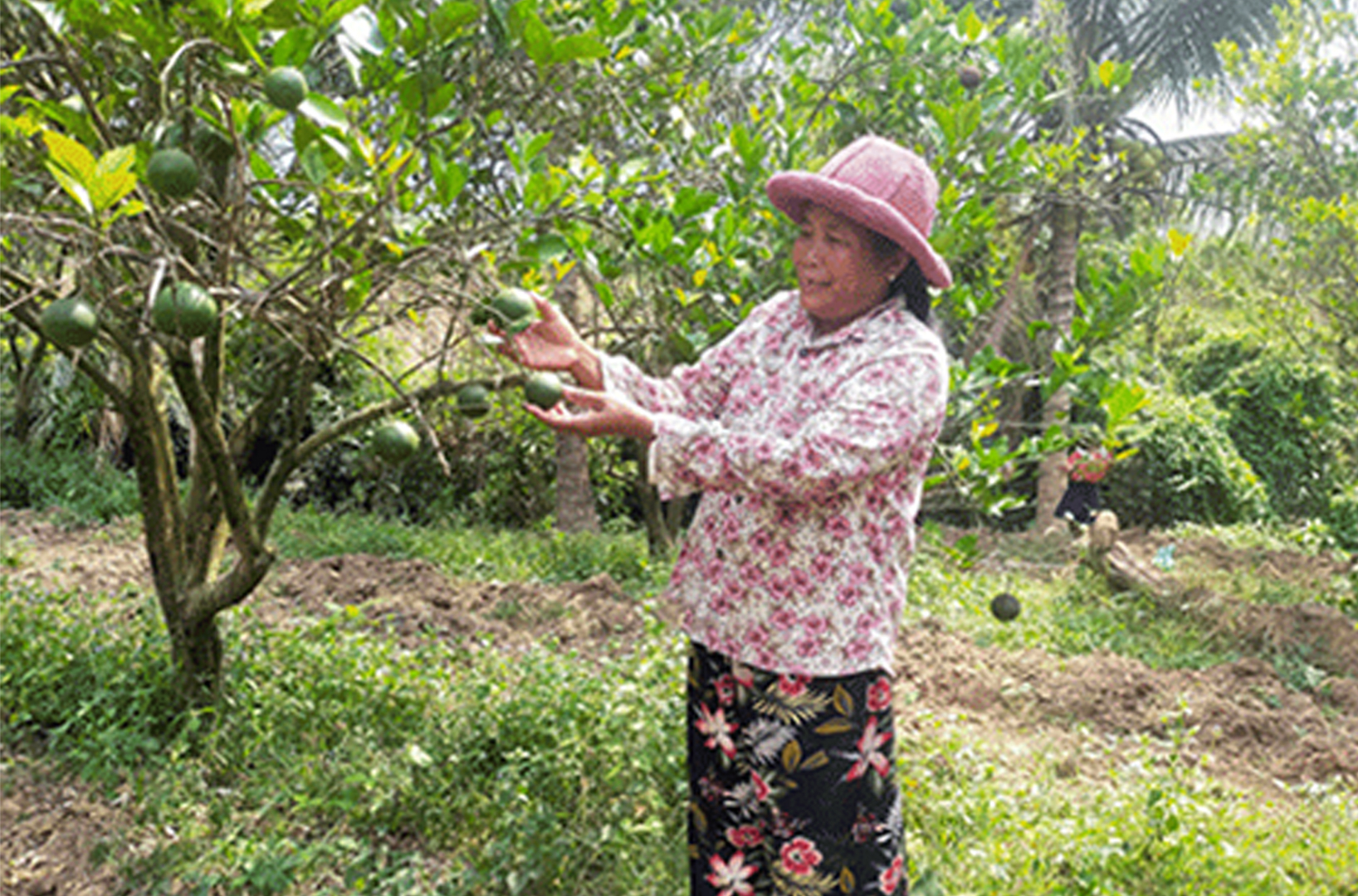 "Due to the Covid 19 pandemic in 2019, we couldn't go out and had to rely entirely on savings for our daily expenses. So, we didn't have enough money to take care of our orange farm," Mrs. Vorn Phall, who lives in Phnom Krovang District, Pursat Province, explained. "LOLC Cambodia Plc. loans benefited us a lot since we had the capital to take care of and grow our orange farm, and we expect to obtain more revenue from our orange farm for the upcoming harvest," she added. She and her husband, Sim Chan,
were recommended by a friend to apply for a loan from LOLC in the beginning of 2020. She used the first loan of $1,500 to purchase fertilizer and upgrade the current irrigation system in order to enhance the quality and quantity of oranges. After repaying the first loan, she requested a second loan of US$ 2,000 to expand her orange farm to 8 hectares. She currently earns roughly US$ 800 per month from orange selling, and after paying the loan and other household bills, she has around US$ 150 left over for savings.
Mrs. Tiv Saophorn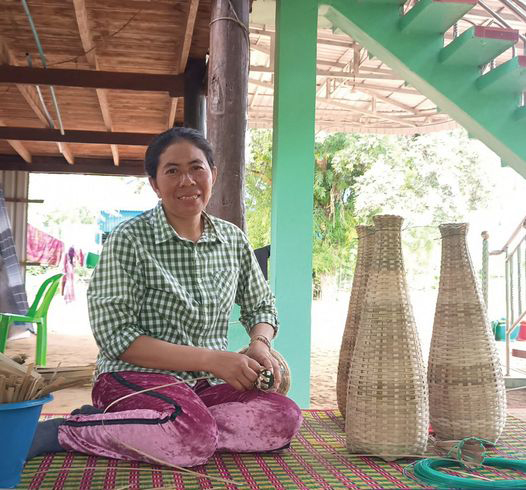 Mrs. Tiv Saophorn was compiling the eel finishing tool (Poang) under a wooden house in Toul Roka village, Melum commune, Boribo district, Kampong Chhnang province. She described "I was living in a small wooden zinc roof house and my family income was relied on my husband and son. But now I can earn around US$ 250 from rice farming and making eel fishing tool." One day she met LOLC staff who introduced her about the loan products. Then she decided to ask for the first Group Loan (GL) of US$ 1,000 in 2019 to buy some fertilizer for rice farming and buying the raw material for making eel fishing tool. She always sells eel fishing tools and rice crop to the brokers who came into the village, and she could save around US$ 50 every month.
After that she could early pay off the loan and get another loan of US$ 1,750. With her saving and the loan, she could renovate her house since the roof always leaked the water when it was raining. In April 2021, she asked for 3rd loan of US$ 2,000 to buy more raw materials for making eel fishing tools and rice farming. "Of course, I am really happy since currently I have latrine, better house for my family, and I have a new source of income, making eel fishing tool," said Mrs. Saophorn.
Mrs. Sorm Ra, Duck Raising Farmer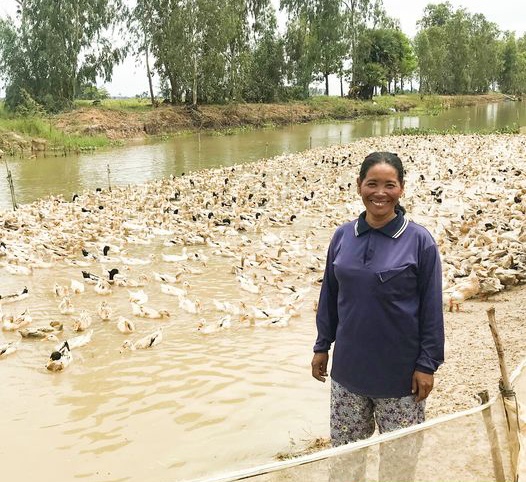 Sorm Ra, duck raising farmer in Krasang Village, Sanlong Commune, Treang District, Takeo Province. Ra and husband, Nhoem Chhea, were interviewed during collecting eggs and informed that "In 2020, we able to earn only 750 eggs per day and now we can increase of up to 1,500 eggs per day after added more ducks". Ra and her husband were recommended by their neighbor to apply for the loan from LOLC Cambodia in 2020. So far, the egg price started increasing day by day and it's a significant opportunity to increase the duck in their farm. She has been using 2 cycles loan from LOLC with the amount of US$ 750 and US$ 3,500 respectively, to buy more ducks. "Currently,
we have around 3,500 ducks and approximately could earn 1,500 eggs per day which can generate around US$ 2,600 per month. After paying for the duck food, family expenses, and repay the loan, we can save around US$ 450 per month accordingly" Ra said.
Mrs. Sun Mom, Papaya Salad Seller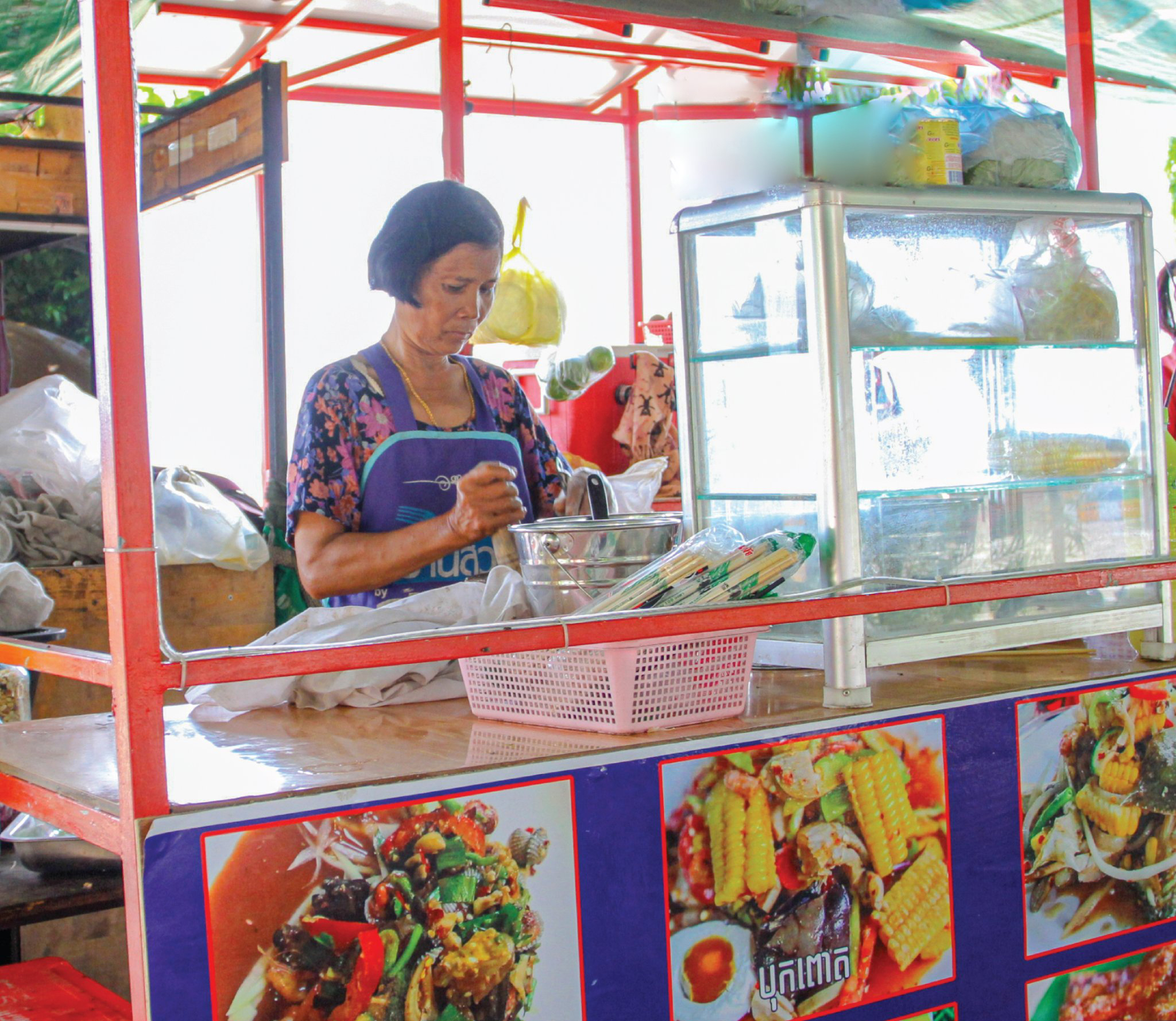 Holding the pestle in hand, Mrs. Sun Mom, widow, 57, is so busy with her clients but she still seeks to describe us about her livelihood before and after using a loan from LOLC. She said, "I have two sons and a daughter. After the first two sons got married and left, I have been living with the married daughter and take care of grandchildren". She's a farmer in Angkor Ban Ti 6 Village, Angkor Ban commune, Kang Meas District, Kampong Cham Province. In the free time of farming, she also wanted to run a small business to gain some profit to support her daily expense. But the problem was the capital. Fortunately, in Oct 2019, she heard about the loan information from her neighbor so
she discussed with her daughter to ask for a first Group Loan US$1,250 to start a small papaya salad shop in Angkor Ban Pagoda. Then she decided to get another loan of LILAB amount US$ 2,070 for buying a motorbike to help her easily travel to the market. In order to improve her papaya salad shop, she applied the third loan of US$3,600. My papaya salad shop gets support from many clients, especially Green Papaya Salad (Buk L'hong) because it's so delicious, in this small new business I can earn about US$30 per day after paid on the expenses, she remains about US$ 300 per month," "LOLC Cambodia has changed me from a woman who had no income, now I became a seller with dairly incomes. In the future, I will expand my stall bigger than this to increase more income. I would thank LOLC backed up my capital." She ends smiley.
Mrs. Un Chanthorn, Grocery shop, and buy weaving materials for her own weaving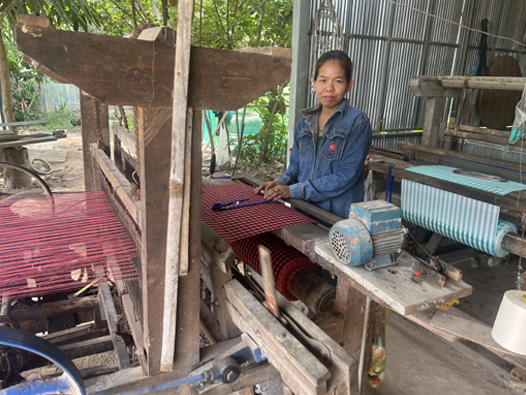 Krama is a symbol in Cambodia and represents its legacy. Krama is engaged in continuing this legacy for generations all over the world. Mrs. Un Chanthorn was a Krama (yarn scarf) Weaver for neighbors and her husband, Chin Vichet, was a blacksmith. They could earn around US$ 250 per month which could only support their family, but they did not have enough time to take care their family including Chanthorn's mother. Chanthorn and her husband dreamed to have their own business instead of working for wage, but they did not have capital. Fortunately, they were introduced about LOLC Cambodia from
fiend, so they decided to get the loan from LOLC since 2018. So far, there are three loan cycles of US$ 1,750, US$ 6,000, and US$ 7,000 to set up new businesses, grocery shop, and buy weaving materials for her own weaving at home. Currently, she could earn around US$ 300 from grocery shop and US$ 250 from her own Krama weaving at home as the profit per month. "Now, my husband and I are very happy since we have our own businesses at home which allows me to have enough time to take care my family and mother" Chanthorn said.